Below are stories and features from this month's newsletter.
Amber's Story
People who know Amber (not her real name) describe her as full of joy, constantly overflowing with encouragement for anyone she encounters. But when Amber told her boyfriend about her pregnancy, she found herself in an abusive relationship… Read more…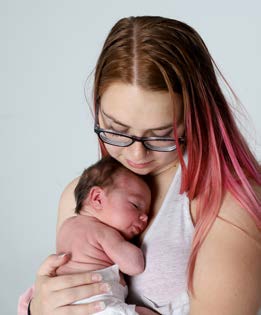 Melissa's Story
Melissa (not her real name) was a single working mom with a toddler at home. "I couldn't imagine having another baby," she says. "My first reaction was, What will my mom say? What will the father say?" The baby's dad was pressuring her to have an abortion. She felt all alone.
*The stories and photos in these blogs are representative of the clients and patients we serve; however, names and some details have been changed to maintain anonymity.
To download a PDF of the August newsletter, please click here.
During this free, approximately 20-minute event, Barnabas Foundation's Adam Lopez, J.D., director of planning, will discuss common estate plan sticking points. Learn how you can move forward on a plan that honors God, provides for your family and supports Life Network and the other causes close to your heart.
Learn More and Register at BarnabasFoundation.org/interactive
Questions about leaving a gift to Life Network in your will? Contact Mike Hestermann at mhestermann@elifenetwork.com or 719.355.1190.