2019 Life Network Gala & Silent Auction
Hotel Elegante – Thursday, October 3, 2019 and Friday, October 4, 2019
Join us as we celebrate the life-giving and life-saving ministry at Life Network and the Colorado Springs Pregnancy Centers. This is an opportunity hear what the Lord is accomplishing through Life Network – and to look ahead at what is to come. Due to the significant response the last two years, we are expanding to two nights! If you are interested in sponsoring a table, or for additional details, please contact our events coordinator Megan Klaus at mklaus@elifenetwork.com.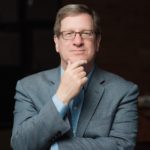 Our special guest will be Lee Strobel. Lee is a former award-winning legal editor of The Chicago Tribune and best-selling author of more than 20 books, including The Case for Christ, which details his conversion to Christianity. Lee also shares powerfully about how the issue of valuing life has intersected with his own life very personally.
In 2017, Lee's spiritual journey was depicted in a major motion picture, The Case for Christ, which ranks among the top twenty faith-based films. Lee has won national awards for his books The Case for Christ, The Case for Faith, The Case for a Creator, and The Case for Grace.
Lee and Leslie have been married for forty-five years and live in Texas.
2019 Walk for Life – and 5K "Fun Run"
Our 2019 Walk for Life took place on Saturday, June 1st at Memorial Park – we had a blast! The event was a major success with about 200 more walkers registered this year than last year. More than 2000 people joined us to walk, run and celebrate the gift of life and the mission of Life Network in the Colorado Springs community. Many thanks to our walkers, runners, volunteers and sponsors – your support makes our daily work of serving moms, dads and babies in our city possible!
We will share more information on the success of our fundraising efforts as soon as we can – please stay tuned! In the meantime, enjoy these memories of the beautiful day we had at Memorial Park!