Melissa already had one blessing in her life. You help moms like Melissa experience more!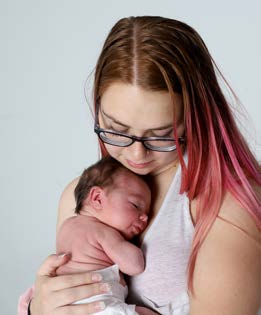 Melissa (not her real name) was a single working mom with a toddler at home. "I couldn't imagine having another baby," she says. "My first reaction was, What will my mom say? What will the father say?" The
baby's dad was pressuring her to have an abortion. She felt all alone.
With nowhere to turn, she searched online for help. "I ended up at the center, where my patient advocate talked to me and helped me realize
everything was going to be OK."
Still, Melissa was in denial — thinking of it not as a child but a problem
to solve. But when she saw the ultrasound, she realized there was no question: She was looking at a child. That changed everything.
Melissa says, "I changed my mind about abortion, because . . . I didn't think I could live my life knowing I killed my child."
Her patient advocate continued to encourage Melissa. And even though the father decided not to be in the picture, she helped Melissa see that she did have support. A professing Christian, Melissa had found it easy to forget her faith in the midst of her dilemma. But her patient advocate gently reminded her that her God is faithful and would be there for her.
Melissa says, "My patient advocate opened my eyes and made me see that God was going to help me. I already had one blessing, a little boy, and God put another one in my life for a reason. The people at the center have been truly amazing and helpful and pray for me and my family." Today, Melissa is thankful she gave her baby life. Because of the center," she says, "I was able to have my beautiful baby girl."