Particularly at a time when the life issue is at the forefront of our national stage, we are so grateful for your commitment to join with us in cultivating a community that values life through our 35th Annual Walk for Life!
This past weekend, more than 2,500 of you gathered at Memorial Park for a beautiful, sunny day to help families in Colorado Springs be brave, strong, and fearless when it comes to valuing life. It was a record year for participation as at least 1,150 people registered as a walker or runner. What an encouragement to have so many of you put your feet to your pro-life commitment by raising funds for Life Network – or supporting those who did.
Because of your support, this Walk for Life will be our most successful fundraising Walk ever! Thanks to our fundraising walkers, runners and sponsors, we surpassed our goal and have raised at least $580,000! As we continue processing all of your generous donations, we will have a specific total to share by the end of the month.
On behalf of our staff, our board and the clients you make it possible for us to serve, thank you for enabling and empowering us to help moms, dads, students, babies and families be brave, strong and fearless. Every dollar you raised or donated will make an eternal impact for countless lives right here in Colorado Springs.
It's always such a joy to join with you at Memorial Park for this family-friendly, celebratory event – here are a few highlights from the day below!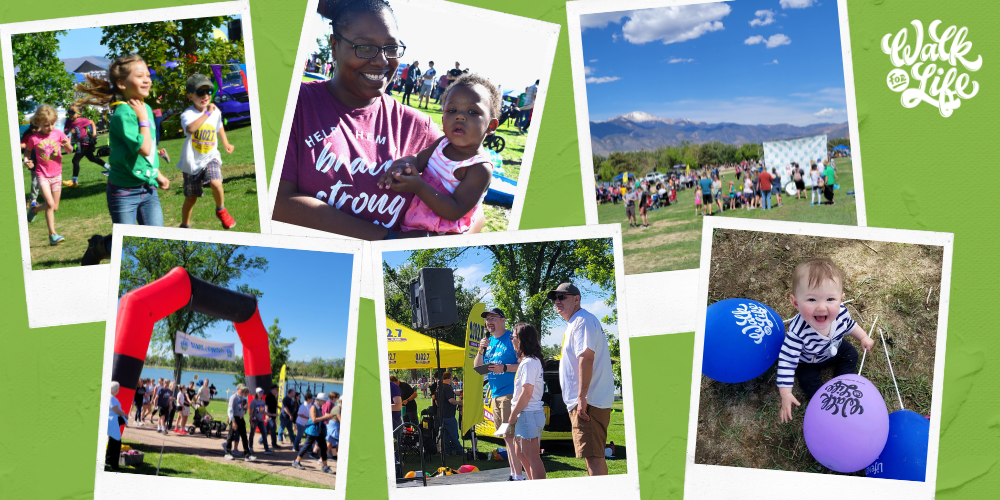 We begin this week feeling immense gratitude for each of you. Your heart and commitment to our life-affirming ministry makes a tremendous difference for families here in our community!
To God be the glory,