People often ask me what's changed the most for our pregnancy centers since the reversal of Roe vs. Wade on June 24th.
 
One big difference is that we are becoming a regional ministry. Because we are easily found online, people facing unexpected pregnancies in nearby states that have restricted abortion are increasingly calling and visiting us.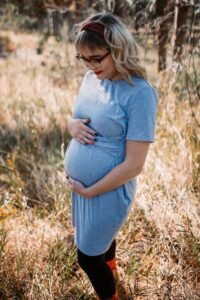 One such patient is a woman I'll call Kristi*.
 
Kristi lives in Kansas, found out she was pregnant, and decided to stay with a friend in Colorado Springs while she considered what to do. As she pondered her very real challenges, the decision to have an abortion seemed clearer by the day.
 
"My boyfriend and I don't feel ready to have a baby."

"How can we afford to care for a baby long-term?"
 
"I have friends who had a horrible experience in foster care. I don't want that to happen to this baby."

Thankfully, Kristi found us online and put off her abortion appointment to see us. As we discussed adoption, and explored if financial resources would change her mind, she remained set on abortion. She refused a prenatal packet at the end of her appointment but scheduled a follow-up ultrasound to see how far along she was. 
 
Kristi returned two days later for her ultrasound. "I'm very nervous," she confided.

Our nurse, knowing it can be difficult to see things clearly early in pregnancy, prayed, "Lord, make this little life clear." When the ultrasound screen lit up, Kristi saw her baby. She closed her eyes and took a deep breath. She left still undecided on what to do. 
 
A few weeks later, Kristi called and joyfully shared, "I've decided to keep my baby!" She also said she had found a doctor in her hometown who was providing prenatal care.

"If it wasn't for the second appointment where I had the ultrasound, I would have chosen differently. Thank you for helping me make the decision to parent my baby!"

Kristi hopes to visit again in the months ahead. "I want to drop by with my baby you helped to save," she shared gratefully. 
 
Like hundreds of abortion-vulnerable women this past year, Kristi from Kansas chose life thanks to you!
 
A few generous donors have joined together to donate a now record $200,000 toward our year-end matching challenge, which begins now. This means your timely gift today can have twice the life-changing, life-saving impact.
 
In these closing weeks of the year, your generous gift can help ensure we are there for women and men locally – and those like Kristi traveling from nearby states who are weighing a life-or-death decision.
 
Will you help us meet our goal of raising $200,000 by the end of the year?

Your end-of-year gift of $50 … $100 … $250 … $500 … or more will provide life-affirming care directly to women and men actively seeking desperate options for their pregnancy.

Will you help women like Kristi choose life in the year ahead by supporting Life Network and our pregnancy centers this Christmas season?
 
Thank you for your passion and support to see lives valued and transformed in our community!
Changing lives together,
Rich Bennett
 
P.S. This year-end match of $200,000 was $175,000 just a couple weeks ago. Now, your opportunity to have double the impact is even greater. Thank you for considering supporting our life-saving, life-changing ministry this Christmas.