A few years ago, I was sitting at my desk when an unbelievable prayer request came into my inbox.
The email stated that California pregnancy centers were under attack. Legislators there were trying to pass a law requiring centers to post signage about how and where to obtain a free or low-cost abortion. Some signage must include disclaimers to make clear that their services do not include medical help, must be posted at eye level and printed in a certain font, and in some cases, written in as many as thirteen languages. Those centers violating the law would face steep fines; centers who, like us, receive no government funds and operate on a tight budget dependent on the generosity of individuals and local churches.
Essentially, the state was attempting to require pregnancy centers to advertise for abortions.
The law passed but was followed by a lawsuit from the National Institute of Family Life Advocates (NI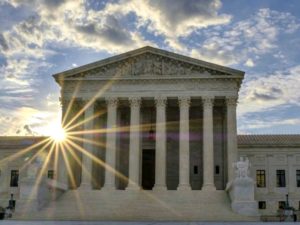 FLA) to stop the state from enforcing the law. They lost, appealed to the Court of Appeals and lost again.
The NIFLA v. Becerra case has now made its way to the Supreme Court. This Tuesday, attorneys representing pregnancy centers and NIFLA will argue that this law is unconstitutional and violates freedom of speech. They'll argue that life-affirming pregnancy centers should have the freedom NOT to speak on something that violates our conscience. The decision will directly impact centers in California, but also establish law that will either protect our centers here in Colorado – or leave us vulnerable to similar damaging legislation.
Will you please pray with us this week?
The implications of this decision are far-reaching. This type of government mandate impacts free speech and potentially goes well beyond pregnancy center ministry.
PRAYER POINTS:

Pray wisdom and protection for those standing before the courts this week.
Pray for the Supreme Court Justices as they hear this case – that they will have wisdom to make a decision that affirms life and freedom of speech.
Pray for pregnancy centers nationwide to stand strong in the face of adversity. Pray that we will always freely have the opportunity to serve women, their babies and their families, offering help, hope, on-going support and life-affirming options.
The clients we see every day are often in difficult, heart-breaking situations. Their crisis causes them to feel deeply fearful, and seek the easiest way out. Posting abortion information all over our walls is not the answer to their fear. Empowering each woman to make a decision that is best for her and her baby – while showing them the love of Christ – that is the answer. Thank you for standing with us!
Laura Howe
Vice President, Operations and Development