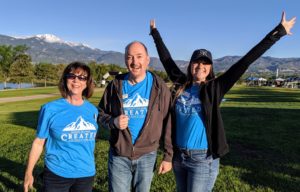 It was terrific to connect with many of you at our Walk for Life earlier this month. I am pleased to announce that the final totals are in, and what a tremendous blessing! With your support and prayers, we surpassed our goal by raising more than $420,000 – a record year for our Walk for Life. Amazing! Praise God!
By participating in the Walk, you play a vital role in our ability to continue to provide free, life-giving services to those in need in our city. Whether you were a walker, runner or sponsored someone who did … we are SO grateful for you!
With a record 2,000+ in attendance at the Walk, it wasn't possible to visit with everyone! However, I do want to take a moment to share one particularly memorable encounter.
The same morning of the Walk there was also a small political rally at Memorial Park – a gathering for presidential candidate Bernie Sanders. Knowing that Sen. Sanders is in favor of abortion and that his supporters there may not view our cause favorably, our staff prayed that those at the Walk would do all we could to "live in peace with everyone," as it says in Romans 12.
At 6:45 a.m., before most arrived at the Walk, someone pointed an older gentleman my way. As he got closer, I spotted a Bernie Sanders button on his cap, and he was wearing a Bernie for President t-shirt.
The gentleman, who I will call "Howard," shared that he and his wife just moved here from the East coast. Over the next few minutes, he shared that he was 71 years old and has been pro-choice all his life, "but I am not in favor of late-term abortions. That's way over the top to me."
Then, Howard asked: "So, what is Life Network and this event all about?"
It seemed clear I was unlikely to change Howard's mind on abortion without getting to know him better. Instead, I decided to focus on the parenting support we provide. I told him that once a young mom and dad choose to parent their baby, we are there to support them with one-on-one coaching until their child turns two. As those parents participate, they earn most of the baby-related resources that their new family will need: a crib, car seat, stroller, baby clothes, diapers and more.
There was a long pause as Howard became a bit emotional. "It's wonderful to hear that you do that. My sister was a single mom and there were not enough people surrounding her with support in those early days. Thank you for doing that."
What he said next surprised me: "How do I donate to your cause?" He wanted to provide diapers and baby clothes for new moms who need them. I gave him a brochure for our LifeSteps program highlighting the items we need and where to drop them off.
"I'll do it. Thanks again for what you do to support new moms and their babies."
After shaking my hand, Howard walked away. While there were things we would have to agree to disagree on, we connected on the importance of caring for young moms in the face of an unexpected pregnancy. I was also reminded that many times, rather than trying to win an argument, it's better to win a new friend.
Thank you for being a friend to what we do to value the lives of the moms, dads and families we serve every day!
Gratefully yours,


Rich Bennett
President | CEO
P.S. You can join us in our mission to serve new moms, dads and babies by regularly sustaining our ministry as a Partner for Life! Sign up to donate monthly today at this page.