Last week, an abortion advocate on Twitter implied that people who are pro-life are only "pro-baby" by posting the following message: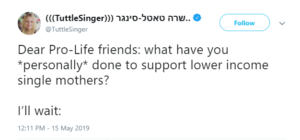 What followed the next three days was heartening. More than 13,000 people responded with practical, tangible things they've done to support moms and dads in the wake of an unexpected pregnancy.
Some threw baby showers for single moms.
Others took a single mom and her baby into their home.
Numerous others talked about their regular support of pregnancy centers like ours, which ensure moms and dads receive the material support and parenting coaching needed to thrive.
Of course, there are thousands more people who could add their own meaningful contributions to the still growing stream of posts. I think there may now be one fewer person perpetuating the false narrative that pro-life individuals don't care about the mom after her baby is born.
You can take a meaningful step to demonstrate your support of new moms and dads in need in our city by joining us for this year's Walk for Life! It's almost here, and it's not too late to sign up. You can visit our Walk for Life page, start your own online fundraising page, and ask a few friends to support you in your commitment to valuing every human life.
If you can't join us on Saturday, June 1st, I would be honored to have you join my support team. Just visit my personal Walk for Life page and show that you, too, are committed to saving babies from abortion and valuing the lives of their moms and dads.
One way or another, I hope you will be with me and my family on June 1st at Memorial Park as together we demonstrate our personal commitment to value the lives of moms … dads … students … and children in our community.
Changing lives together,

Rich Bennett