Thanks be to God for his indescribable gift! ~ 2 Corinthians 9:15
What does an indescribable gift look like?
It's the gift of the woman we met this afternoon who came in determined to have an abortion – but after coming face to face with her baby by ultrasound chose life! One of 259 babies you helped save this year.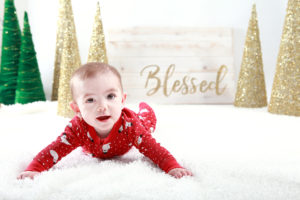 It's the gift of a student tearing up in a classroom after someone told her she has value – and the power to make value-filled choices. One of 8,711 students you enabled us to reach in 2018.
It's the gift of providing a parenting coach … material resources … and now licensed counseling to moms and dads in our city in need of tangible support and reasons to believe they can succeed as parents. With your support, we coached moms and dads in 2,407 parenting appointments last year – an average of 10 every day.
And now, thanks to the gifts of a few donors, we can ensure your next gift doubles this Christmas season, up to $100,000. There's still time for you to participate in what God will do through Life Network in the days ahead.
Not only are lives like those above being transformed, but we are being called to new, exciting efforts as well. Your gift today will mean that next year …
You will be with us in local classrooms as our Who Can Relate suicide awareness and prevention training helps students understand their value, worth, and who needs them. With enough resources, we will grow from the 11 schools we're now in, to twice that by this time next year. Will you help make that happen?
You will ensure more clients who have experienced deep hurt and abuse receive the time they need with a licensed counselor. We've currently filled all our appointment times! Will you help us take our one day of onsite counseling and double it to two?
You will help meet needs for our clients, and beyond, by making 2019 the year we open the Life Network Family Thrift Store. The store will offer inexpensive items our young parents need to furnish their home or nursery … provide jobs for some … and reach additional families in our city, all in the name of Christ. Will you help us take the $60,000 we've raised and double it so we can open?
Most of all, you will enable us to introduce more clients to His greatest indescribable gift … a relationship with Jesus! As we prayerfully anticipate more indescribable blessings in 2019, thank you for your prayers and continued investment in the lives of babies, moms, dads and students all over our community!

You can DOUBLE your impact and DOUBLE your gift today by visiting our year–end matching challenge page! 
Gratefully,
Rich Bennett
President | CEO